INTRODUCTION TO THE PROJECT'S WORK PROGRAM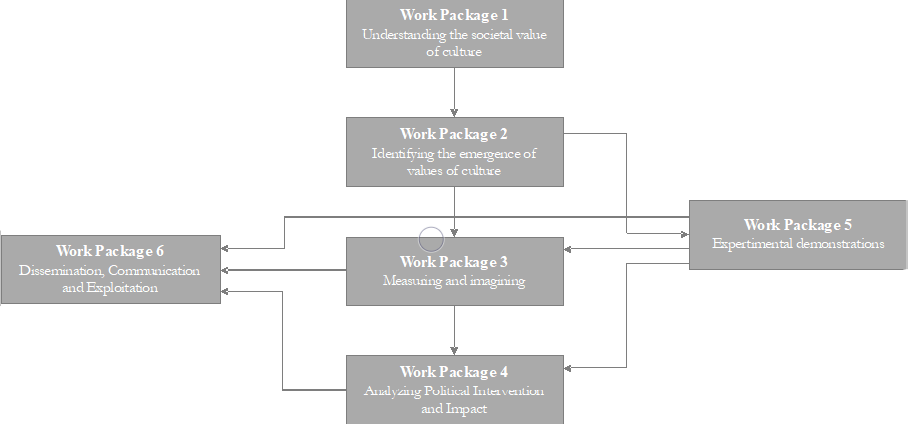 UNCHARTED is a four years project which responds to the H2020 "Transformations" call: The societal value of culture and the impact of cultural policies in Europe.
Taking into consideration the characteristics and the goal of the call it aims, on one hand, to identify and contextualize the emergence and conformation of the values of culture in Europe from an interdisciplinary and pluralistic perspective. On the other hand, the project pretends to provide analytical and methodological tools to understand, measure and analyse the value of culture in Europe from a pluralistic sense.
In order to achieve the objectives, the work has been divided into ieght work packages, each of them with a coordinator responsible for the tasks and deliverables associated with it. The scientific work packages of UNCHARTED are 1-4; while work package 5 is related with the validation of the results of the research. Work package 6 develops and implements UNCHARTED dissemination and communication strategy, work package 7 oversee the coordination and management of the project and work package 8 sets out the 'ethics requirements' that the project must comply with.
WP 1 and 2 have an exploratory character, as befits the circumstance of working on an almost uncharted terrain. They contemplate a wide range of research techniques, mainly qualitative (interviews, focus groups, observation, documentary analysis, etc.), but also statistical information bases and survey quantitative data when required. For the rest, the work has an eminent comparative character throughout its development and an important participatory component of co-creation with stakeholders.
Work Package 1: UNDERSTANDING THE SOCIETAL VALUE OF CULTURE
Work package 2: IDENTIFYING THE EMERGENCE OF VALUES OF CULTURE
Work package 3: MEASURING AND IMAGINING
Work package 4: ANALYZING POLITICAL INTERVENTION AND IMPACT
Work package 5: EXPERIMENTAL DEMONSTRATIONS